It's time for another Five Minute Friday post, were we write for five minutes flat. All on the same prompt that Lisa Jo posts at 1 minute past midnight EST ever Friday. And we connect on Twitter with the hashtag #FMFParty from 10 pm – 12 am. It makes me tired but happy 🙂


No extreme editing; no worrying about perfect grammar, font, or punctuation (although to be honest, I always worry about font. Is that strange?). 
Unscripted. Unedited. Real.
PS: next week I'll be doing this LIVE at Allume. In the same room as Lisa Jo. God is too good to me sometimes 🙂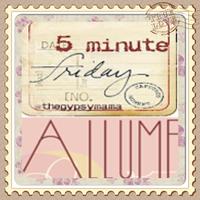 But here we go for today: 
It's easy to join in, just:
Write a post in only five minutes on that topic on your blog.
Link over at Lisa Jo's and invite friends to join in!
Be sure and encourage the person who linked up before you!
Today's prompt: Look


Go!
Have you ever wanted to stop someone when they ask you how you're doing and wish they really meant it? That they would stop and really look at you when they ask?
Look at the way your eyes shine a little, the way your smile doesn't quite make it all the way up?
I'm heading to a conference next week. To Allume. Where I know I'll want to be all things to all people in all places and not miss a single moment. 
But I think God wants me to create some margin while I'm there.
To stop and really listen to someone.
To look past the cute outfit, the welcoming smile, the "big blogger" status and listen for their heart as we chat. 
If I'm going to spend time away from my family I want God to use me, grow me, and draw me to Him. 
I want to see Him. In the friendly faces and beautiful fall trees. In the kindness of strangers and snuggles with babies.In a room of 400 and over coffee with 1. 
I want to look, and see what your heart says when I ask "how are you?"
So, how are you today, my friend? 
Stop.