Hey. 
So, here's the thing.
The reason I'm scared about real life community but love my online community?
I carry the scars of real life rejection by women I thought would be friends for life.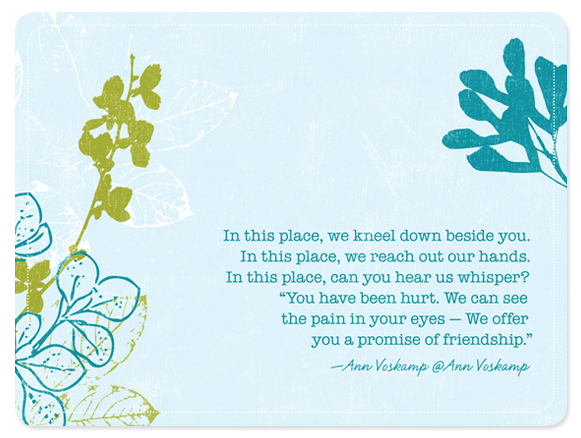 This isn't the sadness of a friendship that comes and goes with the seasons, always picking up where it left off. This is the gut wrenching, comes back and punches you in the face when you least expect it, doubt inducing rejection that stings and makes you want to hide under the covers wondering what you did wrong and where you hid the chocolate. 
It came out of nowhere in college, set off – by of all things – a gift exchange. It happened again later that same year, a season of loneliness, told by a roommate that my Christian beliefs and her Catholic beliefs meant that I wasn't going to heaven. And later when lives simply didn't intersect any longer and my heart broke after hearing the things that were said behind my back. Or being told that I'm straight up an awful friend. 
Online I can distance myself enough, edit, play up the voice I want people to hear, pretend that those scars don't cross over my heart deeply. It has taken me a long time to forgive some of those hurts. The pain of rejection has formed insecurities in my life that don't, however, allow me to forget. I wish I could. Oh how I wish I could wake up and bravely walk into new situations and open myself up to a community with no fear. But as with most things that I've given to God to use for His glory, the enemy uses those scars to try to convince me with each new opportunity that I'm not good enough. I'll be rejected again. I'll be alone and I might as well just stick with what I know.
God says otherwise. In Colossians 3: 12-14 we read: 
"So, chosen by God for this new life of love, dress in the wardrobe God picked out for you: compassion, kindness, humility, quiet strength, discipline. Be even-tempered, content with second place, quick to forgive an offense. Forgive as quickly and completely as the Master forgave you. And regardless of what else you put on, wear love. It's your basic all-purpose garment. Never be without it." (MSG).
This is the truth I have to remember, when the enemy starts reminding me of what I'm not. God tells me who I am, as a new creation in Him. His vision for me is more wonderful than anything I can imagine, and all I have to do is love. Get out there. Encourage others in community who carry the same scars and fears. Love them. And loving others is what community is all about, isn't it?