I've been writing about community the last few weeks and wanted to share a few of my quick thoughts on how to build a community. In case you were interested. Though none of these are earth shattering. And they took me all of about 5 minutes to write down. So. There you go 🙂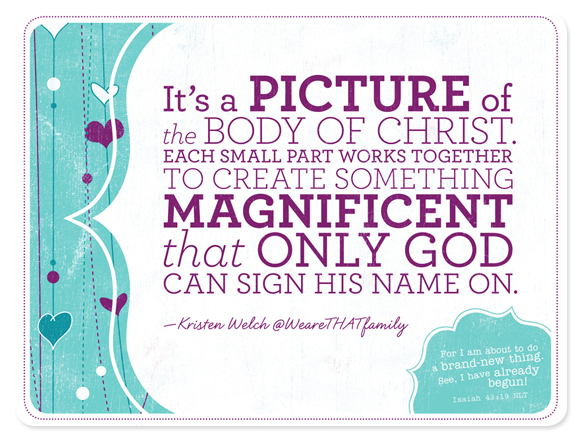 How to build a community:
Don't wait for someone else to do it! 
Think about the things you like, and invite others to join you
Stop lurking online and leave some comments!
Have some goals you want to accomplish this year? Ask some friends to join you & keep you accountable! 
Join when other people invite you to do something, and then return the favor
Go to a blogging conference
Start a Bible study with your coworkers
Meet up with friends who are also moms for some non-kid coffee time
Train for a 5k with someone
Participate in blog link-ups
Attend Twitter parties (you'll make friends!)
Actually call/write/follow up/pray for the person you said you'd do those things for
Have a girls night in with fuzzy socks, chocolate & lots of laughter
Host a Google+ Hangout with some of your online friends!
Host a playdate 
Join an online book club/Bible study
Share resources – if you know of a great book/website/store that has JUST what someone needs, tell them about it! Especially if whatever it is happens to be on sale. Like shoes. Ahem. 
Send a real, snail mail card to someone "just because" and ask them to pass do it, too
Start a mug/bracelet/fuzzy sock exchange
Meet up with local bloggers and go apple & pumpkin picking – and blog about it (obviously!)
Be a light for Jesus and let Him guide you to the right community
What are some other ideas you have to build a community, either online or in real life?