Affiliate links are used in this post. Smooches & squishy hugs for using them. 
Have I mentioned that my daughter has an overflow of personality?
It's in this motherhood journey that I've most often needed someone to take me by the shoulders, look in my eyes and say "You're going to be okay."
When our 2 year old daughter eats like a 13 year old boy.
When she loves the idea of the potty more than actually sitting on it for more than 3 seconds.
When no one tells you that the teething things lasts for YEARS.
When you see the dreaded "______ sickness has been reported" sign at daycare. Again.
When you realize that God has given you a little girl who makes you simultaneously laugh and cry in frustration.
When you just don't know how to do it anymore. Or if you're doing it right. Or if your daughter will end up in some sort of juvenile detention situation because she keeps hitting her teachers at school and you can't figure out how to fix it.
When she tells you she has to go potty in the middle of bath time – and you know it's only because she hates having her hair washed and she thinks I'll forget. And then I turn around to hear her singing "twinkle twinkle little star" with a towel on her head, happy as a clam.
Some days? In the mothering and working and wife-ing and trying to remember how to be a good friend…you just need someone to slow you down long enough to say "It's going to be okay. It's not always going to be like this. You're doing a good job."
Holley Gerth? Y'all…she's that friend. When you visit her blog you feel like you've been handed a warm cup of coffee. And when you get to know her in real life? You realize that's her heart, poured onto the virtual page in lieu of that real cup of coffee she'd actually love to have with you. There are so many voices and noise and messages online right now – telling you to buy this, do that, support them, give here…it can be overwhelming and frustrating. But there is something about the authenticity in Holley's writing that makes me believe what she's saying. Encouragement poured out warm, truth shared in love, all supported by Scripture and when you meet her in real life? That's who she is. 
The words and the message of her new book, "You're Going To Be Okay" could not have come at a better time for me. In those moments when I feel completely incapable of any of the gifts God has given me, Holley's words remind me that – yes – I am. But God is more than capable, and He has a purpose for me. On those days when motherhood feels like someone has thrown a towel over my head and I just can't find my way out, my sweet friend Holley reminds me that it's all going to be okay.
Will you join me in celebrating the launch of her new book today? Because behind the scenes? I love this sweet friend very much and would love to have you join me in cheering loudly 🙂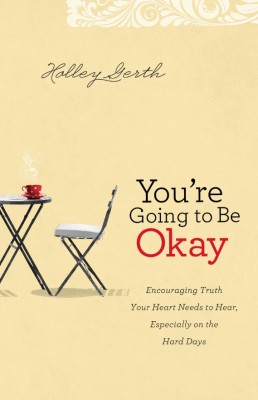 Behind the Scenes Update: I have so loved hosting this link up and I was so incredibly touched by all of your kind words last week! I have so many dreams for this space, and in order to simplify and make room for some of those projects, the Behind the Scenes link up is going to become a once-a-month event! Woohoo! More time to find photos & write posts! So, starting in March, come back here the 1st Tuesday of each month to link up – and invite your friends 🙂 The more, the merrier!
[inlinkz_linkup id=368949]