I posted the other week
that I was tired of always being the one to plan and invite, and for once I just wanted to be invited to join something.
Have you ever had those moments? When you feel like suddenly you are the event planner for your friends, family, work, church, etc.? I'll admit that I enjoy doing it. I loved having my girlfriends over for an
(in)RL gathering
in the spring. I love having family over for dinner..ok that's mostly because hubs cooks and I get to eat yummy food and watch other people play with our girl. But still – I actually don't mind being the hostess.
I'm not very good at it though. I'll waffle for days about whether or not I should plan something, who I should invite, what I'll do if no one wants to come. I've hosted many a home-goods party with nearly no attendees, after inviting 30 people, so the fear of hosting a boring gathering is sometimes more than my poor introverted heart can bear.
Or the times that I've started getting a group together and suddenly they all love one another and do things. Without me. Ouch.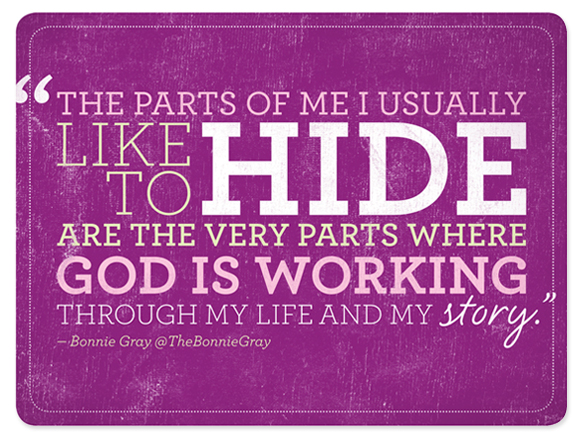 And that introvert? Yeah, she doesn't really like being the center of attention, so thanks for coming over, now can y'all just amuse yourselves and pretend you don't need me to be witty/charming/tell hilarious stories and bring together groups of people who don't know each other? That would be awesome.
To say that being intentional about surrounding myself with an in real life community is hard for me is an understatement. I would really rather be included in someone else's community, and offer little nuggets of helpfulness when the mood strikes & I see a need. Except that isn't really coming out of my shell and being a light for Christ, is it?
In Acts 20, Paul tells the leaders of the congregation of Ephesus "Now I'm turning you over to God, our marvelous God whose gracious Word can make you into what He wants you to be and give you everything you could possibly need in this community of holy friends."
That is what I want. I want to be brave in building community, not because of what it brings me, but because I know that God will give me everything I need. He can – and will – transform me into what He wants me to be. But it's not going to happen if I hide behind my computer and only build community through 140 characters and blog posts.
A few ideas I had:
Get together with some girls from work for coffee once a month
Join a Bible study at a local church
Be intentional about encouraging other bloggers with comments on their posts
Introduce myself to some of the "big deal" bloggers at Allume with confidence
Encourage new moms the way I've been encouraged
Buy this calendar and send a postcard every week next year to someone who needs encouraged
What ideas do you have? I'd love to hear them!